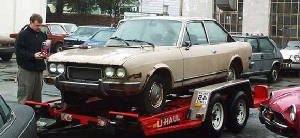 This is my second 124 Coupe. The first, a '73, I bought from Joe Camplese in the late 90's. It was more of a fantasy than reality as the car was pretty rusty but I imagined restoring it, painting it blue metallic gray like the Spider he was saving for himself …which he would one day sell to my girlfriend. I trailered that Coupe home and worked on it some, but within a six or so months realized it would cost a mint to repair all the rust through.
My friend Don Robinson helped me locate a '74 Coupe that Peter Krause was selling. It was in much better shape, but that's relative. Ironically, it was the same color as my first Coupe: flat tan. Though the body was very solid and has remained so, it had a poorly repaired right rear fender and a rotting trunk lid where a battery problem had caused a lot of rust. I drove the car from North Carolina with crossed fingers to Don's shop in Richmond where it spent the winter.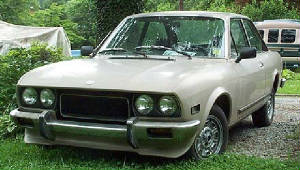 I drove it home to Maryland in the spring and began going over it. From that point to the Spring of 2005, I rebuilt the driveshaft, wiper motor, rearview mirror. Replaced the timing belt, oil pan, starter motor, alternator, water pump, voltage regulator, heater core, clock, ball joints, A-arm bushings, rear seat bench & back, and lower trailing arms. Upgraded the seat belts to X1/9 belts & retractors, the ignition to '79 electronic (installed a capacitor for the tach fix), the headlights to vintage Marchal quads, the shocks to yellow Konis as well as installing
Vicks
sport springs, and ditched the PO installed mechanical fuel pump in favor of a Facet electric pump. Added front and rear sway bars, and designed a nifty adapter for the front. Had the radiator redone. Installed a Blaupunkt CD player and 6x9 speakers in the rear parcel shelf. Backdated the bumpers to the chrome ones from a '73. I collected other items never installed such as a 2 liter block, all the right fixin's for IDFs including a waffle manifold and stock "turtleback" air cleaner, and an NOS right rear fender to fix that awful battery damage rust.
I initially drove it on a set of 13" Cromodora wheels I'd refinished for my 128 Wagon, which ironically were actually factory optional wheels for the 124 Coupe. However, most of it's time with me was spent on 14" Spider Turbo wheels and 195/60 Yokahoma AVS T4 tires.
With all that goodness, it needed more. Ya know, "once I replace everything, it'll be great".
So why am I getting rid of the Coupe?
After two years of fairly reliable service as my daily driver, what I've found is that I like the idea of the Coupe more than the reality of it. It's a good car on many levels that are important to me. It's pleasant to look at, great lines and masses, love that butt, love looking out over that long shapely hood, great interior environment, easy to work on, best gauge panel ever, great heater, best riding Fiat I've ever driven on the highway, reliable in ways that count. However, what I've always liked about the other Fiats I've owned is that there was no modern counterpart that did quite what they did/do. The best example I can think of is my X. In bone stock form, the closest modern car of comparable price is the MR2 and it does a lot of what the X does even better, but the things the X does best, it can't touch. The Coupe, even with sport springs, Konis, sway-bars, 14" wheels, etc. is no better than my ex-wife's '96 Chevy Cavalier. Frankly, the Cavalier's probably better at all things the Coupe does well.
The Coupe was becoming a game of "how much of the basic character of the Coupe is left after I swap out everything I'll need to be satisfied by it"? I've been using it as my daily driver for the past two years and what finally nailed it for me, the fun factor aside, is that I realized it is less practical for moving myself around the world than my X ever was. I never carry passengers, never use the back seat 'cuz getting stuff there then out again is a hassle and I was always worrying about ripping the damned headliner, can't fit a 5 gallon bucket upright in the trunk (you can in an X) ...oh ya, and it's noisy and not in a way I like - waaaay too much gear noise for my taste. Just sitting at idle in neutral, the tranny sounded like ass. And then there are the f'in' ball joints & bushings - I changed the damed things one Fall and they were trashed by the next Summer - it took 200K miles on my '85 X to come close to wearing out a ball joint out… And then there was the f'in gas tank that coughed up more rust than a Russian steel mill…
So, I re-examined all the stuff I liked about the Coupe and what I'd liked about past Fiats I've owned. What was left was a recipe for a
Scorpion
...and that's what I bought to replace it and be a mate to my '86 X and my 128 Wagon. Plus, I have the 2L motor I'd intended for the Coupe which will plug and play even more easily into the Scorpion.
Did I mention that I've been searching for a decent trunk lid for for the Coupe 3 years? Did I also note that almost everything that is NLA for the Coupe is available for Scorpion (including new windshields), as well as all kinds of cool aftermarket upgrades? I mean everything I could never get for the Coupe.
Currently I'm decommissioning the Coupe by removing all of the upgrades from the car before I sell it because they add virtually nothing to the value of the car as a whole. All that good stuff will end up on my SO's Spider. I've worked too hard on all this stuff to give it away at the prices even good Coupes get these days.
This is another of the problems with Coupes, "rare" does not equal "desirable". As rare as they are (far rarer than Scorpions) they are the least desirable of the "cool fiats". My buddy
Carl Friedman
(who drove 131/Bravas for 3 or so years) and I have figured out what supports the fragile coolness factor of the hardtop fiats - it's Spider owners who say, "Ya, Coupes are cool, I've always wanted one". Yet they've never bought one or had to live with one. It's a fantasy, the idea of owning the oddball car. It's the weirdest thing when I go to one of our local gatherings and open the hood, all the Spider owners gather around like there's more to see in there than under their own hood.
I've enjoyed my time owning a Coupe and learned a lot that will apply directly to my fabulous woman's Spider and to my new Scorpion as they all three have significant things in common. I think I'll eventually forget about the things I dislike and fondly miss what worked for me. I might even buy another someday if the right one comes along, but for now I simply get to say I drove a 124 Coupe daily for a couple years.

John O.
Updated 29 Oct 2006