The National Capital Fiat Club invites you to drive
the second annual DC Fiats Catoctin Run on Sunday, June 10th.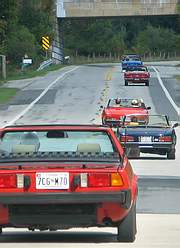 This year's Catoctin Run is a near repeat of last year's drive, with early Summer weather rather than Fall. As before, this drive takes DCfiats along the petticoat of the Blue Ridge, covering 55 miles of Maryland's Catoctin Mountain farm country - the run itself is between an hour & a half to two hours of driving. This is a fast touring course (mostly 3rd & 4th gear) with a variety of terrain, some dramatic elevation changes, straight road as well as knots & twists. All roads are paved.
We begin in Thurmont, Md (elev. 530') and ascend quickly along the right of way of the Maryland Midland Railroad to Cascade, Md (elev. 1450'). We then turn SSW to motor through woods and open fields, near stream and stone wall, over twisting roads as old as the settlement of Maryland.

We'll finish at Brunswick (elev. 250', MARC parking lot), once the rail hub of Maryland. The "official ride" concludes at noon with lunch at King's Pizza & Italian Restaurant, for authentic NY/NJ style pizza and I-foods. After-lunch deserts and specialty drinks can be found on the way back to our cars at the popular Beans In The Belfry.


Brunswick offers easy escape for those who want to take the highway home or to other Frederick County sights. A short leisurely "martini" country cruise to Point Of Rocks, delaying the return to civilization a few minutes longer, is offered for those looking to make rt15 (Va & Md) or rt28 part of their journey home.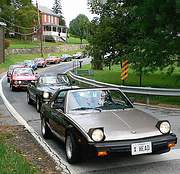 Map of Cozy Country Inn: 301-271-4301
103 Frederick Rd
Thurmont, MD 21788, US
Directions to the meeting point -
Get to Route 15 north of Frederick, Md.
Exit rt 15 at "MD-806 / THURMONT",
turn right onto THURMONT BLVD,
then Left onto FREDERICK RD / MD-806.
The Cozy is on the left, just past The Mountain Gate Restaurant.
The Cozy opens at 8:00am and a few of us may meet for coffee or a light breakfast before the run. Gas is available down the street from the Cozy at Shell and Exxon. There are also fast food restaurants close by; Roy Roger's and McDonald's. If you won't be eating with us, please arrive gassed up so we can leave the Cozy lot as near to 10:00am as possible. Printed course driving directions (cue sheets) and maps will be provided before we leave the Cozy.
Cue sheets (driving directions) for the run are now available for download in both Word and plain text formats. Though I'll be handing out printed copies at the Cozy, this is offered for those who would like to pre-view the route. Maps will be available for download in a few days."Right click" on one of the links below to save the file to your computer. "Left click" to open in your internet browser. Times and distances listed to the right are "point-to-point" and are meant to help folks guage how long each leg is - beware, the miles are "X1/9 miles" from my X's odometer (accuracy is not it's best feature), so take them as rough numbers. ;-)
If you plan on joining us, please send an RSVP, so we'll have an idea of how many folks to prepare for.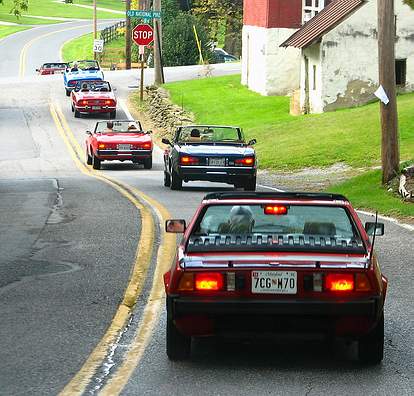 There is no cell service through large portions of the drive, so its very important to keep visual contact with the driver behind you!!!! However, there is good cell signal at the Cozy and in Brunswick, MD, our destination.

Since our little excursion will be over after lunch, there is plenty more to do and see in the Catoctin area. Starting with our DCfiats drive, plan to make a whole day for your family in Frederick County.

POC for this run is John Ovington. Please free to e-mail or call 240-994-7440 for any additional information or needs.
The National Capital Fiat Club - DC Fiats website is of course DCfiats.org