The last Scorpion cooling expansion tank/reservoir you'll ever need to buy.
I'm not selling it, but I'm "sold on it". Another Scorpion enthusiast, Tony Fasola, was really the trail blazer on this and I helped develop it a little further. I think we both agree it's pretty derned cool. Below you will find a breif description and backgound on the piece, ordering information, and photos. I hope you will find it of value.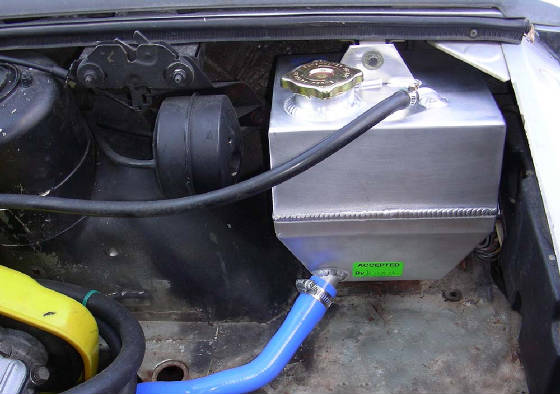 The Problem
Tired of looking for a quality replacement expansion tank for your Lancia Scorpion? Me too! I see old NOS plastic ones going for $80 to $120+ if you can find 'em. Great, that's what I need, another crappy plastic tank to get old, yellowed & nasty looking, stress cracked, and leaky. No, thanks! Scorp and Monte owners have also been known to adapt X1/9 stainless steel tanks - some folks like 'em, but I think they don't fit well, look cobbled in, and you can forget your stock hoses (BTDT).
A Little background on the development
Through the
LanciaScorpion Yahoo list
, I came in contact with Tony Fasola, another Scorpion owner like me, who'd had a custom aluminum tank made for his Scorpion about 3 years ago. When I'd asked the group about replacement options for the unreliable and NLA plastic tanks, he pointed me to Griffin Radiators in South Carolina. I supplied them with a stock tank as a sample to build from, along with photos of the custom tank they'd made for Tony and his customer info. I also asked the sales person at Griffin if they had provisions to make multiple copies for other Scorpion/Montecarlo owners. Their solution: make shop drawings of the custom tank they built for me and - drum roll please - GAVE IT A PART NUMBER!!!!
Griffin sent me the custom tank and asked for confirmation on final fit. The mountings were a little off, so I sent the tank back with some photos and measurements, along with a drawing of a suggested new top tab. (Afterward, Tony had also mentioned the same mounting problem, but he had chosen to deal with it on his own). The changes Griffin made to my tank are now reflected in the finished shop drawings as well.
What you see in the photos is the final tank returned to me - a perfect fit! It doesn't foul on the bodywork, mounts to the 3 stock bolt points, the original hoses fit as before, and there is no need to move the vacuum tank as when adapting the X stainless tank. Though a bit "Cubist" in it's intepretation of the stock tank, Grifin even reproduced the architecture on the back side. Personally, I'm impressed by it's rugged aluminum construction and I love the big beautiful welds.
Only real problems are slight: 1) the diameter of the stock Cavis overflow tube is too small to use on the Griffin tank and will need to be replaced with slightly larger vinyl tubing, 2) there is a sharp edge on the filler neck near the overflow tube which fouls on the stock cap - it simply needs a little rounding over with a file (see photo), took me less than a minute, and then the stock cap fits perfectly. Otherwise, thats it! Finally, here is the last Scorpion cooling expansion tank/reservoir you'll ever need to buy - it'll probably outlast the car.
BTW, Tony polished his tank and it looks beautiful. I've chosen to leave mine "natural" for now.

Ordering info
My cost was $175 plus shipping. The company is Griffin Thermal Products.
CLICK HERE
for their website or call 800-722-3723 and ask for Scottie Sullivan.
The part number is KM-20653-01.
Photos