"Big, you are a big cat!"
This page really ought to be all about The Monte Hospital's awesome fiberglass hardtop. It is, to an extent, but only by how it lets my little buddies hang out with me while I wrench.
The Problem (such as it is)
As can be seen in
THIS PHOTO
, a cat or two have been part of my garage crew for as long as I've had grease under my nails. I think a lot of car guys would be irritated by cats walking around on their babies, but I enjoy the company. I learned early that cats love to sleep between the frame members of a convertible top; it's a cat hammock! Of course, the Scorp has a big hole in the roof covered by a very nice fabric cat bed. When the Scorp first came home and the cats discovered their new soft perch, I went on a search for something solid to fit the top hole which could support a cat better than an old piece of vinyl fabric.
The TMH Answer
There are several styles of hardtops for the Scorpion which have been available from different sources, but the one I chose was a newly made piece from The Monte Hospital in England. It's almost easier to use than the fabric top. I also like that it can be stored in the trunk with only a little jiggering. However, it absolutely requires top straps to hold it in place when driving, which were missing from the car when I purchased it. So, first I had to get some straps in place, which I bought directly from Tom Balon, who had developed high quality replacements. As I understand it, Tom's molds for the replacement straps are now owned by TMH.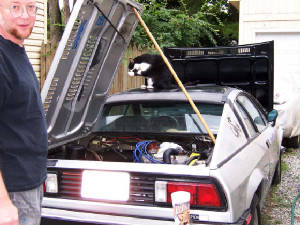 Cats Give Approval!!!
Below are pictures of Big, my 17 lb furry Union foreman, keeping a close eye on all the work I perform while not lifting a claw to help. He is, without a doubt, the best shop cat EVER. Nothing bothers him. Compressors, drills, impact guns, dropped tools, he keeps his cool. However, he is smart enough to get a little distance when I start up an engine.
John O.
Photos