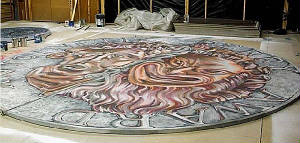 This soft covered (steel framed) medallion hanger was painted for the 2001 Tony Awards in latex, acrylic, and casein. For more detail,
CLICK HERE
.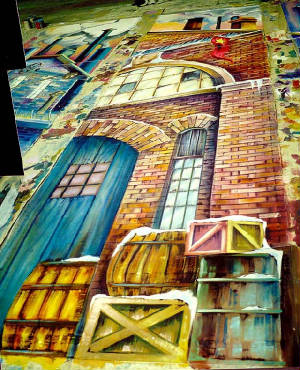 This leg (and others) was painted for Anastasia On Ice. It is painted exclusively in Goldens Acrylics on synthetic fabric. For more detail,
CLICK HERE
.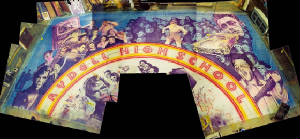 Designed by James Fouchard for the Troika Organization's National tour of Grease, this 28' X 48' show portal was brushed and sprayed with aniline dye on a white velour.
For the Music Theater Group National tour of Sound Of Music, this hanging piece was a hard covered and painted in latex and casien.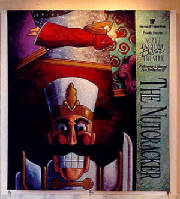 This Nutcracker package, painted for the North Carolina Dance Theatre, contained 28 different softgoods including portals, cut drops, and translucent drops. To see the Nutcracker drops in performance,
CLICK HERE
.


Ovington Designs
Here are a few recent Ovington designed pieces.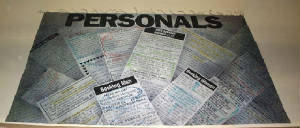 Designed by J.E. Ovington for the Fringe Festival (Scotland) production of Personals, this 12' X 24' muslin drop and it's accompanying set of legs were designed to fold into checked luggage travelling by air as with the performers to Scotland.




Check back soon, we add new pretty often.
Nothing else to see here. Move along.