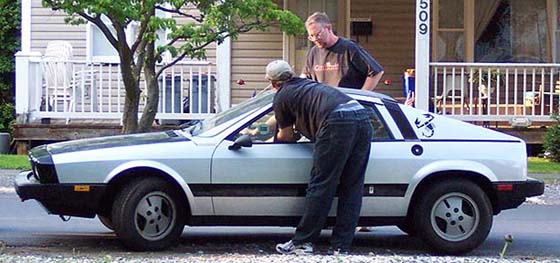 A Rough History of Lancia Beta Scorpion #1194
My friend, neighbor, and fellow Fiat owner
Richard Ridge
has been encouraging me with my cars to take more interest in their ownership history. Due to the special rarity of my 1976 Lancia Scorpion and the welcoming community of Scorpion and Montecarlo owners, I've felt moved to take Richard's advice.
I have a number of receipts for insurance, registration, etc, from which I've put together a loose but far from complete ownership history of the car. I can't honestly say how many owners there have been for Lancia Scorpion #1194, as there are gaps in the paper record I've been given. If any of the previous owners happen to stumble on this page, please feel free to
contact me
if you can offer anything which might complete the picture more.
According to the original "Owners Warranty and Service Book", Scorpion # 1194 was originally purchased from Whitehouse Imported Motors LTD of Whitehouse Station, NJ. Rose P. Steinberg, the absolute first owner of the car, of North Brunswick, NJ, took delivery on September 26 1977. It was sold to her by Whitehouse salesman Derrick Graham. A free warranty service was performed by Whitehouse on October 27 1977. Then Continental Motors, Plainfield, NJ, performed warranty service on December 5 1978 at 17,986 miles.
The next owner I have record of is Victor R Steinhart of Caldwell, NJ, who first insured the car on June 3 1982. The first registration and tagging I have record of under Mr. Steinhart is for the following year on April 13 1983. The plate number was 364PYN. Last record of insurance is June 1986.
1194 then came into the hands of Allan and Karen Crabb of Franklinville, NJ. The first registration I have for them is on June 29 1987 and the last for May 1988. Their plate number was CBM63L.
At some point the car came into the hands of David Lafferty Imports in Newfeild, NJ, where it was sold by Lafferty Imports to Martin Sollish on February 5 1992 (according to the Bill of Sale for $4500 "as-is" towed). Mr. Sollish insured the car the same day, registered and tagged it two weeks later on the 19th. At the time of registration and titling by Mr. Sollish, the car had 34,764 miles on the odometer. During 1194's life with Mr. Sollish, the car resided in Pomona, Marlton, and Pinehurst, NJ, respectively. Though the car was insured through October 1997, the last valid NJ inspection sticker on the car is dated February 1996.
Roughly nine years later in March 2004,1194 was purchased by
Bruce Matthews
of
Bruce's Parts Bin
of Newfield, NJ as part of an estate sale, but was never registered or tagged by him. As told by Mr. Matthews ("Bruce" to those that know him), the car was one of four different models of Lancia that were being sold together. Bruce bought two: the Scorpion and a black/gold 1982 Zagato and he listed them both for sale on his business website. After reading on the
Mirafiori Forum
of my aborted attempt to purchase a Scorpion in Atlanta, Bruce contacted me about his. Interestingly, Bruce's Parts Bin is the previous location of Lafferty Imports.
At my first visit to inspect the car on 25 April 2005, I gave Bruce an initial deposit, with a final payment mailed on 28 April. 1194 was insured, titled, and registered by me in Maryland on May 9 2005, so as to be road legal for the trip home from Bruce's with a new "Historic" tag. When registered by me, the car had 36,520 miles on the odometer, and the new Maryland tag is "historic". On Tuesday 31 May 2005, 1194 was towed home from Newfield to Rockville, Maryland by me and Derek Blume using my Dad's Ford Explorer as a highly capable tow vehicle, with John Erskine's DC Fiat's Rescue tow-dolly.
The irony is not lost on me that Scorpion #1194 was twice towed from the same location by different "new owners".