Nothing is as easy as it looks; everything takes longer than you expect.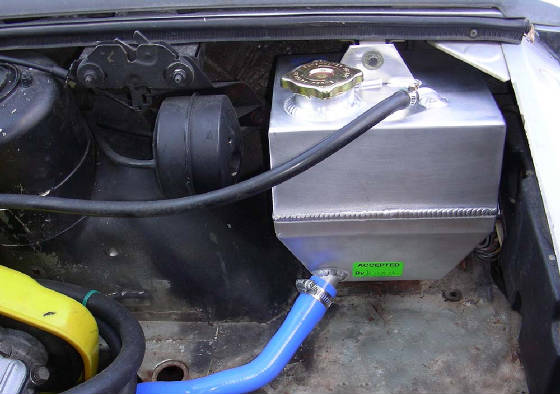 The Problem
The Scorps and Montes come stock with a plastic expansion tank. That's actually fine, a lot of cars have plastic bits as part of their cooling systems. But 30 years later, they get stress fractures and fail at inconvenient times. Trust me I had this happen on my '85 X with a plastic tank, leaving me somewhat stranded but I got the car home. For a while, I'd see NOS plastic tanks on eBay going for $80 to $120. Really not that pricey, but it sets up a repeat of the problem; another geriatric plastic tank to get old, yellowed & nasty looking, stress cracked, and leaky. Old cars are fun! Scorp and Monte owners have also been known to adapt X1/9 stainless steel expansion tanks - some folks like 'em, but I think they don't fit well, look cobbled in, and you can re-use your stock hoses (BTDT).
Development
Through the
LanciaScorpion Yahoo List
, I came in contact with Tony Fasola, a long time Scorpion owner, who'd had a custom aluminum tank made for his Scorpion. When I'd asked the group about replacement options for the unreliable and NLA plastic tanks, he pointed me to Griffin Radiators. I then supplied Griffin with a stock tank and cap as a sample to build from, along with photos of the custom tank they'd made for Tony with his customer info.
Troubles with Griffin
After a month and change (and several phone calls from me), Griffin sent me the custom tank and asked for confirmation on final fit. The mountings were a little off, so I sent the tank back with some photos and measurements, along with a drawing of a suggested new top tab. (Afterward, Tony had also mentioned the same mounting problem, but he had chosen to deal with it on his own).
When returned to me after another month, the tank fit well, no longer fouled on the bodywork, mounted cleanly to the 3 stock bolt points, the original hoses fit as before, and there was no need to move the vacuum tank as when adapting the X stainless tank. Though a bit "Cubist" in it's interpretation of the stock tank, Griffin even reproduced the architecture on the back side. Initially (and still), I was impressed by it's rugged aluminum construction and I loved the big beautiful welds, but getting it right was turning out to be a pain.
Next, I discovered that Griffin had supplied the wrong filler neck. The stock cap would not fit. I wished I noticed it before, but I'd gotten distracted by the basic fitment issues to check it over fully. Anyway, back to Griffin it went …again …and again another month or so to get it back to me.
While the tank was out at Griffin, a member of the
Lancisti forum
asked me if Griffin had gotten the top tube to the correct length inside the tank (this is the return supply from the t-fitting at the head). When the tank came back from Griffin, I found the tube was far short of the stock length, but didn't seem to impair function …I was definitely done with sending it back and forth to Griffin.
Finally, the only problems left with the Griffin tank were slight: 1) the diameter of the stock Cavis overflow tube was too small to use on the Griffin tank and was replaced with larger vinyl tubing, 2) there was a sharp edge on the filler neck near the overflow tube which needed a little rounding over with a file to prevent the stock cap from fouling.
It is the last Scorpion cooling expansion tank I'll ever need to buy; it'll probably outlast the car, and even though the final piece is well worth the $175 I paid, I can't say I'd want to repeat the process again.
John O.
Photos