CONDITION REPORT - 27 June 2005
At the time of purchase, the car had no battery and I made no attempt to start it. Definitely a gamble as an "as is" sale. With a battery installed at the time of pick-up, the engine would turn over but not start and was adequate for running the hazard flashers while trailering the car home.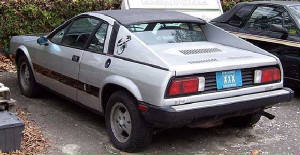 Once home, I spent some time going over the car and, while being nearly rust-free by east coast standards, it has a lot of what I now know are typical Scorpion issues. The following reads like a daunting list of things to do, yet the car has not failed to impress casual observers - it presents itself well and, even with it's flaws, looks good close up. Though a bone stock Scorpion throughout, the car's biggest virtue beyond it's relative "rustlessness", shiny paint, and unobtanium Koni struts, is the obvious care, or better, lack of abuse it's has seen in it's 29 years and meager 36 thousand miles.
Engine and Mechanicals
I've gotten the engine started, but only just. The points needed cleaning and I've replaced the wires and plugs. Once it had spark, there was no fuel delivery. I've relocated the after-market Facet/Purolator style pump from the "hole" between the carb and the passenger firewall to a temporary point near the fuel fuel tank and also installed a temporary fuel filter. I replaced the 32 DATRA carburetor with a 34 DMTR I bought from Mike Mudge. Once all was in place, it fired right up! The emissions control air pump had been previously removed and the air injection holes crudely closed off, but a clean up of all that can wait.
The water temp gauge doesn't function and I'm hoping it's the sender. Thus I haven't brought the motor up to operating temp …as far as I know!!! I won't know if the radiator fans come on properly 'til I have a working gauge.
The shifter/linkage is pretty sloppy, with the ball on the tranny lever needing a spot weld or brazing on the back to secure it. I suppose I'll also be getting good at replacing bushings as well. I now have those on hand. It's also been recommended to me to re-weld a couple other standard items which are known to fail on the shift linkage.
All the hydraulics are dry, brakes and clutch. I now have replacement parts on hand for the clutch hydraulics.
The car is equipped with an air conditioning system (York compressor). It's condition is unknown, but likely not functioning.
I've purchase a fair condition quad tip Ansa rear can (needs a little welding) and I have a complete CSC Primaflow exhaust system on order.
Electrics

The wipers run slow at all speeds and don't wipe to the "park" position, but stop where they're turned off. I'm advised by experienced Scorpion folk that a good strip-down and cleaning may resolve the problems. If not, a new one will be needed from the
Monte Hospital
.
The coil was relocated by a PO to a position where it's pretty much guaranteed to get soaked when driving in the wet, so I need to find a better home for it.
There's some PO wiring in the engine bay that needs to be traced and undone. #11 fuse blows easily indicating a serious short somewhere on that circuit. Gauge lights are not working.
Interior and Trim
The original maroon interior has been re-dyed black. Pulling back some edges, its clear the interior had faded badly to a red-brown and that a PO had actually done me a favor by re-dying it. There is a small tear in the dash that had be "concealed" by a large foil Lancia logo sticker leaving adhesive residue behind. The center console between the seats is ripped up at the driver's seatbelt connector and the driver's bottom seat cushion is split at the seams. The seat belts are a bit tattered, especially the driver's near the retractor. The rear view mirror had been re-glued and as is typical the windshield cracked at the point of attachment. The passenger side interior door handle doesn't operate and there is a miscellaneous PO wiring project hanging from the door handle pod. Lancia stickers attached to the driver's wing window and to rear window removed leaving adhesive residue behind.

Exterior and Bodywork
The car has been re-sprayed at least once in what I believe to be OEM Silver, however the current finish is base/clear as opposed to an OEM single stage paint and does appear brighter than the original color. The hood and nose band are currently painted black. I have no way of knowing at this time if the car was an original "black hood" car, but my guess is that it wasn't. Also, there are large black after-market Abarth scorpion self-adhesive stickers applied to each rear sail which have been clear coated over making their removal very difficult.
The convertible top operates very well and doesn't leak, but is missing the notorious "top straps". The seams look a little old and I anticipate having to replace the top in the next year or so especially since all three of our cats seem to like to sleep on it!!! though not at the same time…
Door keys fit but won't turn in the locks. Seized or wrong keys?
The driver's side mirror is loose and needs work from inside the door to secure it.
I took out the heat shield on the rear deck and as promised by other Scorpion owners, water poured out of the shield itself. Only a little rust through the sheet metal under the heat shield, but a lot of surface rust. I suppose the heat shield on the underside next to the exhaust is just as bad - lots of heat shields on this car!
The belly pan and the air duct air missing from the car. Both will need to be replaced to ensure proper engine cooling.
The right rear turn indicator lens is cracked and will eventually need to be replaced.
I've purchased from Jim Keller a very nice later Beta Zagato grill and quad-headlights to convert the car from the stock goofy quasi-pop-ups (hate 'em).
CONDITION REPORT - 17 July 2005
I've been picking away at the car, so it's time for an update.
Parts Acquisition

I now have on hand clutch hydraulic parts, temp senders, and shift bushings from
Bayless Fiat-Lancia
. After the first oil change, I realized what a pain future oil changes will be after I fit a new Belly Pan, so copying Allen Lofland's idea, I bought a remote oil filter kit from
IAP
. I'm squaring up a fairly large order from Chad at the
Monte Hospital
and I hope to get that paid for this week. Included in the order are the missing Engine Bay and Front Air Ducts as well as sport springs, camber adjusters, and brake upgrade parts. I also expect a
Whoa Brake
kit from Jim Fierst to be hitting the door step any day now. I've sent off a check to Tom Balon for a set of his reproduction roof straps. I recently won a set of used door handles on eBay. They have a working set of keys and will (I hope) simply swap-out for my frozen lock set. I received a set of valve covers and a Beta intake manifold from Val Danilov that I've started prepping for use on the Scorpion. They are generally cleaner and have none of the emissions fittings present on their Scorpion counterparts. Finally, I've purchased a spare Scorpion motor and tranny from
Bruce Matthews
.
Engine and Mechanicals
I've installed new senders for water temp and water over-temp. However, both of the lead wires were identically marked: green w/ white stripe. By trial and error, I've gotten what I think is correct hook-up for the gauge. But when I kill the ignition, all the gauges zero out except the temp gauge. It keeps reading unless I unplug the lead wire, then it zeros out until I kick the switch over to battery position again. That can't be right ...right? But it does not seem to drain the battery.
Once I had a working temp gauge, I ran the motor up to and passed operating temp. The radiator fan did not come on. I metered the switch at the fan and it was closing properly. The relay seemed to be closing when I touch the fan switch leads. I suspected a bad ground at the fan. However, I also suspected the off brand relays stock on the car and I replaced all with Bosch units of the same value previously stripped from my '85 X.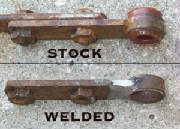 I'd initially removed the shift linkage to simply change the end bushings and repair the one loose pivot ball. However, once I got a look at those 30 year old dainty little girl scout welds that hold the bushing rings in place, I knew I wouldn't feel very confident hard shifting through the mountains of western Maryland and Pennsylvania if I didn't beef those up a bit, as well as add tack welds to the reverse side of the other ball pivots. My welding is still a little heavy handed for this sort of task, but here are the results: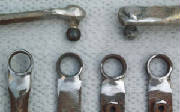 All the pieces have since gone through the blast cabinet, are painted, and ready to be bushed. I've been advised to use the "boiled bush" method of installation.
Electrics
I removed the flaky wiper motor to tear it down.. Once in hand, I thought it looked more familiar to me than your average Marelli wiper motor. I opened up the hood on my 124 Coupe (currently being de-commissioned) and it looked very, very close to the Coupe's wiper motor. I took out the Coupe's wiper motor and it is physically a dead match, identical six pin multi-plug, and the number cast into both motor transmission housings is 727159. Pretty cool, since I'd rebuilt the Coupe's motor less than two years ago. Installed in the Scorp, it works like champ!
While nice 124 Coupe's are rarer than Scorpions, there are plenty of rust-bucket Coupes (like mine) that come along throughout the year where these motors could be salvaged. Trouble is, Coupe owners want 'em too!
Interior and Trim
I removed the adhesive sticker residue left on the rear and wing windows with some Goof-Off on a cotton rag.