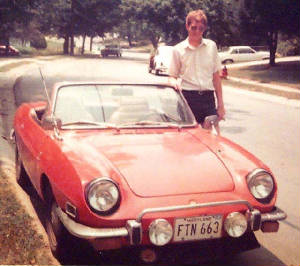 The history of this car is somewhat fuzzy to me now 20 years later, but I will relate what I can remember. This was my very first car, and as such was quite a learning experience. This is the car that started my journey, my "Co-Dependant Relationship on Wheels" with Fiats. My '72 850 Spider is still beloved to me, a little romanticized, and bitter sweet.
At 19, I set out to get an MG. I checked through the classifieds and conned my Father into going with me to look at a few. He's not really a "car guy" (I wasn't then either). They were mostly rust buckets, or so loaded up with Bondo we couldn't be sure they even had any metal left. I was not optimistic about finding a good MG. Coincidental to all this, my Dad had a client who was a local gas station owner and mechanic (Silver Spring, MD), who had a mechanic's lien on a little red convertible. Red… convertible… little… that's sort of an MG, right? Before I'd ever seen the car, they got together on it, and made the deal. I never even knew the price, but I'm certain it was used as barter to pay off debt to my Father for his legal services. My Dad is still big on barter, which is how he got his pool.
I can remember my first time going into the dark garage bay to look at this strange car. I'd never seen anything like it, and initially I was not impressed. It was not an MG, that was for sure. Was it Japanese? What kind of car was it? I started opening things up… and, My God; the engine was in the rear. I figured I could work with it. Understand, at that point in my life, I'd only ever worked on bicycles (and not very well). After going to Glen Burnie to get the title from the owner, it was mine.
I think I owned it over a total of 4 (or so) years. Initially there was much sweating and wringing of hands, as I learned the basics of how a car works. Also, along the journey a couple parts cars donated some vital organs to the cause. At its worst it was very bad, at its peak it was quite excellent. When I got it, it wouldn't even hold an idle. Near the end of its life, in addition to basic 850 maintenance, it had these features: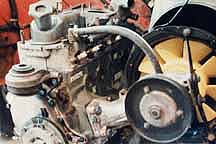 Koni shocks all around
Abarth Cromodora wheels (can't recall the tires)
Abarth steering wheel (presently on my '85 X1/9)
Sway bars, front and rear
Plex 201 electronic ignition
Oversized (930cc) High Compression Pistons (Borgo)
Alquati high lift cam
Abarth valve springs
Rejetted Weber 30 DIC1 carb
Free-flow air cleaner
Ansa Free-flow exhaust
Street roll bar
Front fiberglass spoiler (kept nose front lifting at highway speeds)
Auteroche H-4 headlights
Auteroche driving lights (wired into high beam relay)
Aftermarket Center radio console (very nice)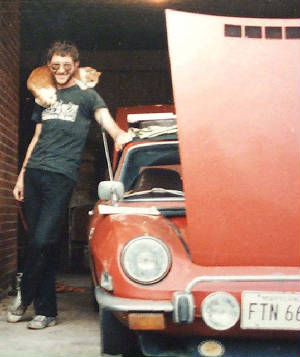 During its short life with me, it had fender benders, dings and dents all around, but nothing can compare with its demise. In 1987, after bumming around a bit, I was accepted to North Carolina School of the Arts (Farts). I had in the mean time also gotten a '78 X1/9 in addition to the 850. Figuring the X1/9 was more robust for living on campus (no soft-top for thieves to cut through), I arranged with a friend of my Dad to store my car at a self-storage place. He had similar arrangements with other folk with MGs, Triumphs, so on. The cars were stored outside, nose to nose, inside the compound's fenceline. It was a cheap, seemingly safe solution. I took the plates off, and stopped the insurance.
November 1st of my first semester, I received a call from my Dad's friend to inform me my car had been vandalized. I went home the next weekend to check it out. Every piece of glass was broken. Every lens bashed in. The top was ripped from its frame (which was also twisted up). Tires were cut. The seats were slashed up. The instruments were smashed in. The radio and center console was gone. Every opening body panel was bent back over its hinges. The only thing left untouched was the engine, and I didn't have the willpower to deal with it. Other cars stored there had received similar, though lighter treatment. It broke my heart to look at it; so I left it as it was and never went back. I don't know what my Dad's friend did with my old car: sent it to a junkyard, I've always guessed.
I regret now, not taking my old motor (and other items) out of the vandalized car. It was a great piece I wish I had now for my present 850 Spider (now since lost as well). I've often wondered if someone might have resurrected that motor out of a junkyard in Southern Maryland and dropped it into their 850. Look for my initials in white (JEO) on the side of a gray 903 block.
John O.
Updated 28 October 2006