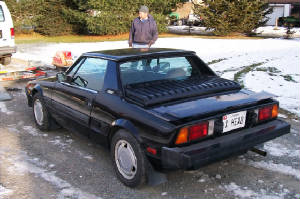 Photo by Todd Rosenthal
I first found out about this car from a post on the X-Web forum which had a link to a Craigslist ad. The car was located in Towanda, Pennsylvania. The ad was very basic, but the pictures with the ad looked good enough to write to the seller to ask a few questions. With good answers back, I asked for a few more pictures which he supplied without any whining.
It all seemed good enough that, if the car checked out, it might definitely worth the 6 hour trip up to get it. My buddy Todd and I planned a trip before Thanksgiving, but I had to scrub it because of a conflict in my work schedule. I mulled over it during the Thanksgiving break and imagined that someone else would likely get to it before I had time again.
No matter, I wrote the seller again and the car was still available. So, I called in sick on a Friday, and Todd and I got our asses on the road in Moby Dick, his company's Great White Whale of a van! Other than one stop to purchase duct-tape to wrap up a cracked fender on our U-Haul tow dolly, our voyage into the snow & ice covered interior of Pennsyl-tucky was an epic example of two guys preparing for the worst ...which never materialized.
The trip from 5 Hagerstown, Md to Towanda (near Watkins Glen, NY) took about 5 hours. When we got there it was 12 degrees out! The car was cold (we both checked for heat from the engine cover independently of each other) and it basically started right up on nearly 1 year old gas. We drove it and EVERYTHING worked; we even joked that the A/C blew very cold!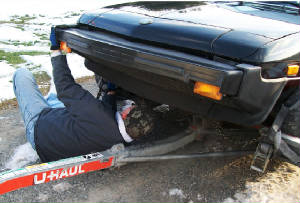 Photo by Todd Rosenthal
Not a zero rust car, but by east coast standards it is pretty derned close and it is VERY solid. The paint looks passable from 20 feet, but any closer and you can see places where it was hosed on. Only real down side is that third crunches a bit, but it also sounded to me as if the box wasn't completely full.
After our test drive, Todd and I were sitting in the car and I said something like, "how weird is it to check out a car that is just as it was represented?" Because of soooo many past experiences with sellers who were either just ignorant or wanted me to be ignorant of the turd they were trying to sell, I kept waiting for the other shoe to fall. It just never did. Do I wish the paint was perfect or that the velour hadn't been dyed (probably Ray Betts' doing)? Sure. But, this car was a great value for the money, and what's an X without something to do?

Photo by Todd Rosenthal
As to the weirdness with the '87 body side molding and wing: with some info from the seller, we guessed that this is a Ray Betts car; an 86 he tarted up to sell with "dealer added options" from an '87. The paperwork the seller generously supplied with the car, confirmed that the car was originally sold by Ray.
John O.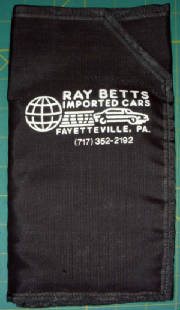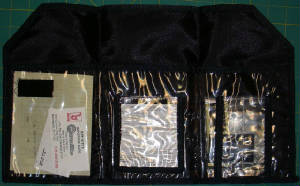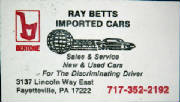 Created 23 Dec 2009